Our Crest
The University was granted Arms by Letters Patent from Garter Principal King of Arms in October 1994.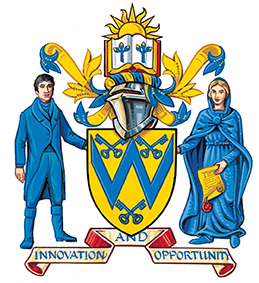 Coats of arms are granted by Letters Patent from the senior heralds, the Kings of Arms. A right to arms can only be established by the registration in the official records of the College of Arms of a pedigree showing direct descent from an ancestor already appearing therein as entitled to arms, or by making application through the College of Arms for a grant of arms. Grants are made to corporations as well as to private individuals.
The University's Arms show supporters on either side of the shield. These represent Lady Wulfrun often regarded as the founder of what is now the City of Wolverhampton in AD circa 980 (a settlement described as Wulfruna's Heantun in the Saxon Chronicles) and Thomas Telford the renowned Engineer who, in 1787 became surveyor of public works for Shropshire and whose works and structures can be seen across the Region and the Nation and after whom the Shropshire New Town was named.
The motto 'Innovation and opportunity' succinctly embraces the ethos of the region and the University. This is also evident in the University's Mission Statement.
For those interested in the technical/heraldic description of our Coat of Arms it is as follows:
Between two Chevrons Couped inverted and conjoined, three pairs of Keys Saltaire Wards upwards and outwards, two in chief and one in base Azure and for the Crest upon a Helm with a Wreath of the Colours Rising from behind an open book, proper edged or bound Gules each page, charged with a sprigg of three Hazel Nuts all slipped and involucred Azure, a demi Sun in splendour Gold mantled Azure doubled.
The supporter on the dexter side a representation of Thomas Telford (1757 - 1834), civil engineer, proper habited Azure. On the sinister a representation of Lady Wulfrun proper habited Azure, holding in the sinister hand a Deed partially unrolled or pendent there from a Seal Gules as the same are in the margin hereof more plainly depicted.
The whole to be borne and used forever hereafter by the University of Wolverhampton by its Common Seal or otherwise according the Laws of Arms.