All Plastic Is Not Created Equal
When?

23 June 2022 , 08:45-13:00

Where?

Globe Eco Centre The Old Mill Church Street Uttoxeter ST14 8AG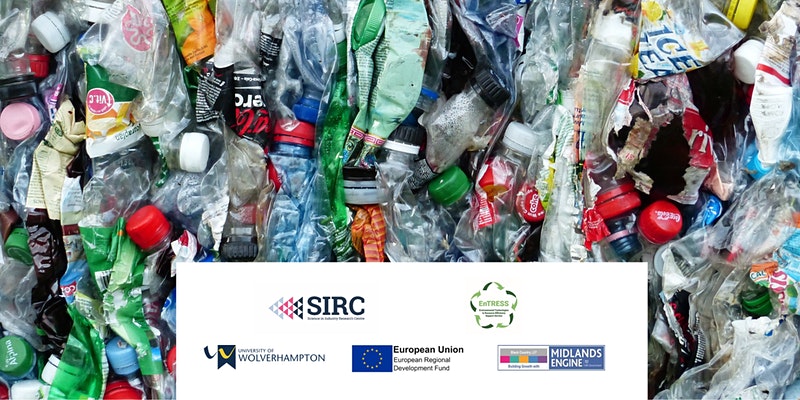 About this event
The EnTRESS project, at the University of Wolverhampton, supports Black Country and Stoke & Staffordshire SMEs with the adoption of environmental technologies and resource efficiency processes for the reuse, recycling and recovery of materials and resources.
EnTRESS is part-funded by the European Regional Development Fund
Plastic has become a hot topic over the past decade. From single use plastic bans to the introduction of the Plastic Packaging Tax in April, there has never been a more important time to understand the implications of plastic use in your business.
From being a miracle material in the 1950s to being vilified in the 2020s, plastic is all around us. Businesses need to be able to make informed choices about which plastic is the best material to use and when alternatives are a better option. Join us to discover the expert view on key issues and potential solutions in moving plastic from disposable to sustainable.
This in person event will be held at the Globe Eco Centre in Uttoxeter and will include presentations from academic and industry experts, company case studies and networking.
Eligible companies attending the event can chat with project staff about the free advice and support on offer.
Agenda
8.45-9.30am Registration, breakfast & networking
9.30am Welcome & introductions - EnTRESS , SIRC and the Globe Foundation
9.45am Plastic & Sustainability - Debbie Ward, EnTRESS
10am All Plastic Is Not Created Equal: an overview of different types of plastic with a deeper dive into bioplastics - Brian Johnston, SIRC.
10.40am Plastic Packaging Tax and Validation of Recycled Content - Andy Whyle, Sustainable Certifications Group
11am BREAK
11.45am Industry comment
Jonathan Armishaw, MBA Polymers
Natalie Horler, Industrial Polythene
Q&A
12.30pm Case Studies
Recycling Hub at the Globe Eco Centre
TBC
1pm Event Close