City Campus: Food, fitness and fun
If you're going to be based at our City Campus, you'll discover it has the lively and varied atmosphere that comes with being based in a city centre. With Wolverhampton's high street (or more accurately, Dudley Street) only a few paces away, you're within easy reach of all the essentials.
If the UK's second city is calling you'll find it an easy hop on the bus, train or tram to explore the bright lights of Brum, but you'll soon find that Wolverhampton and the surrounding area provide plenty to keep you busy!
1) Unwind
Looking to unwind but don't want to venture far? You'll be pleased to discover plenty of places right on campus: whether you head to the Students' Union for a quick game of pool; share the gossip over a coffee at Starbucks; or seek sanctuary for prayer, or just a cuppa, in the Chaplaincy. And if your mates are based at Walsall or Telford, you can simply hop on to the free campus bus service to get you there and back for free.
2) Stomach rumbling?
As a student, you now get 5% off the price at our campus catering outlets all year! But if you fancy a change of scenery, there are so many options to choose from in, and around, Wolverhampton city centre. Whether it's independent foodie finds like Nutmeg, Café Maxsim or Zuri; your fast-food or pub-grub favourites; or street-food options galore at the market, you'll find something to suit every taste (and budget). Check out 8 bargain lunches to fill your belly.
3) Something a little bit fancy
Just because you're on a budget, doesn't mean you don't want to splash out sometimes, and you needn't go far. For a meal that feels magnificent: The Bilash, Banks Bistro and Hamiltons Restaurant are walking distance from campus, while a short drive away, there are options such as The Cowshed; Fiume and Miller & Carter.
4) Bend and stretch and lift and jump…
Head to the Sports Centre on campus to get the low-down on all the facilities and classes available to you: whether you're a serious athlete, like to be competitive, or just want to drop in occasionally. Grab your mates for a game and head to the Sports Zone by Lomas Street Halls: open 10am- 9pm, its floodlights won't let sundown interrupt your fun: simply swipe in and go!
5) Bring out the popcorn!
If you're sick of streaming or feeling Netflix negativity, head to Cineworld at Bentley Bridge retail park for all the big screen action. You get £2 off with your student discount. Get even more film for your fiver at Wolverhampton's Light House cinema – student tickets are only £4.50. It's also the place to go for National Theatre, Royal Shakespeare Company, opera and ballet screenings. Even closer to home, our very own Arena Theatre offers cinema screenings of hits like Black Panther or Aladdin, as well as seasoned classics like Elf or The Matrix: with tickets only £3.50 for students and alumni!
6) Mwah ha ha! He, he he!
Work, study, life… they can all leave us in need of laughter. So if your commitments are leaving you in need of relief, check out who's on stage at: wolvescivic.co.uk Whether it's a local comedy night, or rising stars like Desiree Burch or Lost Voice Guy, you'll raise a smile or two. Alternatively, find the funny with big-name shows like Shrek, or acts including Lenny Henry and Sandi Toksvig at Wolverhampton's Grand Theatre, where you can also fill up on a satisfying mix of travelling shows including drama, ballet, music, comedy, opera and more.
7) Winning West Park
Wolverhampton's iconic Victorian marvel, West Park, has won a Trip Advisor Certificate of Excellence for five years running – and with good reason. Only a short walk from campus, it offers everything great parks do, with space to relax, play sport, have fun with the kids, and to feed the ducks. If you're stretched for time, why not pop into Wolverhampton's Archive Gardens – a hidden gem right next to Molineux stadium? Or walk from City Campus to Springfield Campus along the canal for a different perspective.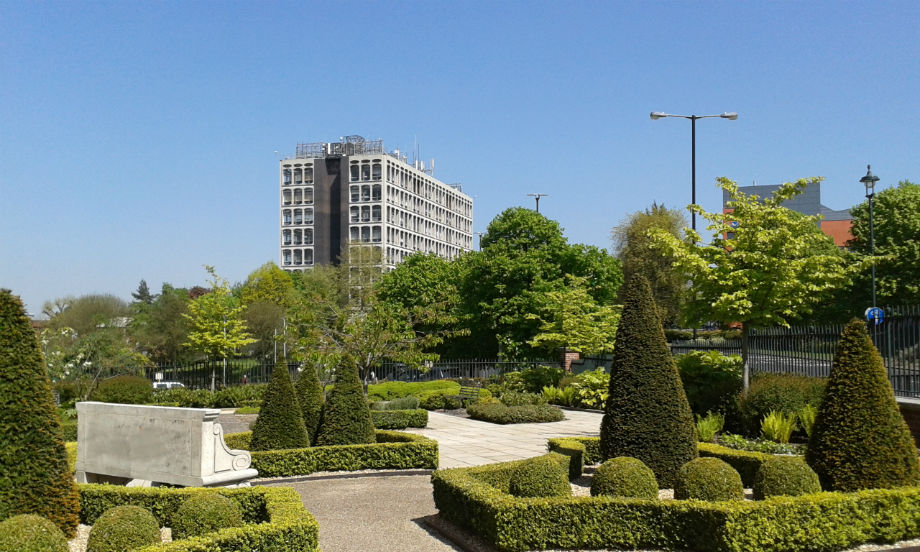 8) Be a culture vulture
Need a break from your studies? Rest your eyes upon Wolverhampton Art Gallery's collection (or grab a tasty treat in their café). Wait 'til a few minutes after each hour, and you can catch a glimpse of one of Wolverhampton's best curiosities as the Wolf in Sheep's Clothing appears over the balcony on Lichfield Street. Our very own Arena Theatre offers a great range of entertainment – as well as generous student discounts – that will often cost less than you think. Or head to the iconic Chubb Locks building to Light House's cinema, gallery, language cafes and much more.
9) Grab a seat
You can't miss the mighty Molineux stadium when you're on City Campus, and you can sometimes get tickets in the stands at a bargain price. But you'll find something to get your pulse racing in Wolverhampton whoever you are, whether it's the horse (or greyhound) racing, speedway, or why not try your own hand at climbing or caving at Wolf Mountain?