Enrolment instructions
Log in to your e:Vision account, select the Enrolment button
Once you have selected Enrolment, click the Register for IT Account button and follow the instructions: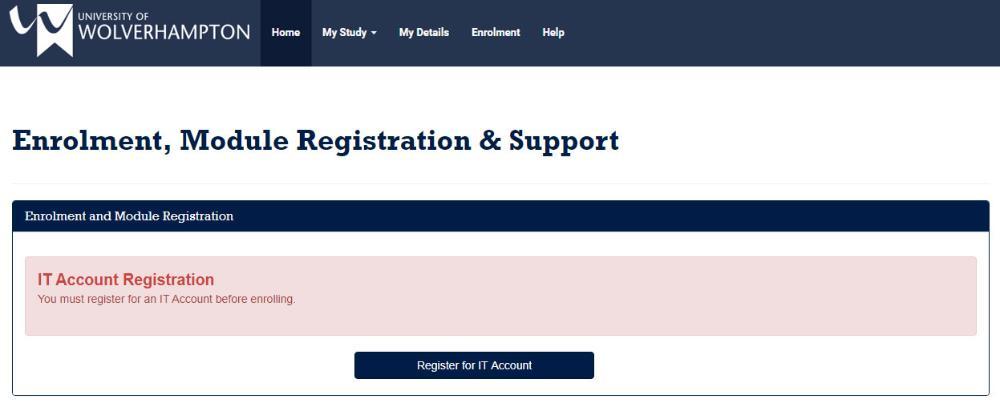 Once you have accepted the terms and conditions for using our IT services and confirmed your password, you will be given your university email address (ending with @wlv.ac.uk). Using this email, you will then be able to access Canvas and your Course Induction information.
Once the IT account has been confirmed, you will need to log back into e:Vision. The Enrolment and Module Registration page should now look similar to this: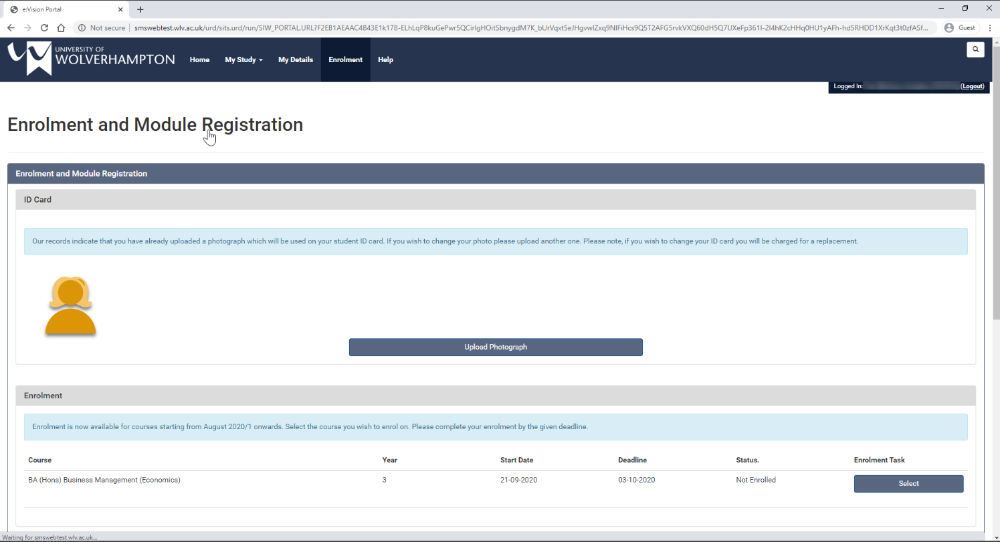 As you can see, this is where you can upload your ID photo if you haven't already done so (for full instructions on this, go to www.wlv.ac.uk/photoid). Click the SELECT button in the bottom right corner to start your enrolment. You should work through each enrolment section and check all your personal details, including your contact telephone numbers and term-time address. You'll need to confirm your qualifications, how you'll pay your fees, and if you have any unspent criminal convictions, you've not yet declared.
This section requires you to upload one document from section A and another from section B.
Section A documents include your Passport, an EU Identity Card or driving licence. Section B documents include any from a birth certificate, to a utility bill, along as it has your address.
Once you've uploaded these documents, you can carry on to the next section.
The final section is Confirmation - where you'll confirm all the details you've provided and that you're happy to be enrolled for the new academic year on your chosen course.
Once completed, you're now fully enrolled - your enrolment status will have changed, and your enrolment boxes should all be green.
Additional Support
Events and Activities
There are a series of events and activities to support your enrolment including drop in sessions both face to face and virtually which can be found within our get set hub.
Enrolment Hubs
There will be enrolment hubs located at each campus to help support and guide you and help answer any enrolment and welcome questions you might have. For March these hubs will be in the following locations from 20th:
A. City Campus: The Junction (Millennium City/Rosalind Franklin Building)
B. Walsall Campus: The Performance Hub Foyer - Ask Reception
Enrolment FAQs
If your question isn't answered here, you can get in touch with ASK@WLV for further support
If you can see all enrolment tasks are green and a blue banner stating 'You have successfully enrolled', you have completed your enrolment, and there are no further tasks. An example of what you should see can be seen below
You will only be required to provide your DBS or Occupational Health Report if you have been requested to do so during enrolment due to the nature of your course.
If you need to complete an Occupational Health and/or DBS check, you will have received instructions on how to do this by email. Further details can be found in the 'my tasks' section in your e:Vision.
If you have any issues completing these checks, please get in touch with your Faculty by email with your student number.
DBS
Occupational Health
Your e:Vision login details will be your applicant/student number which you should have received by email, and the password will be the one you created when registering your IT account. If you cannot find these details, please contact ASK@WLV by calling 01902 518 518.
If one of the enrolment tasks shows as dark blue (such as the one below under Module Registration), you still need to complete this task to enrol.
If one of the enrolment tasks shows as grey (such as the Confirmation tile below), this task is not available for you to complete, but you should still be able to enrol.
Please note that in some cases, Module Registration may be greyed out, but you will still be able to proceed with your enrolment. If this is the case, you will see the below message in blue 'You have not completed Module Registration. This will not affect your ability to complete enrolment.'
If this message shows, please get in touch with ASK@WLV by calling: 01902 518 518.
The University will electronically confirm your registration following the official start date of your course and when you have fully completed enrolment. This will notify Student Finance England and confirm your attendance.
Once confirmed, payments will generally appear in your bank account within three working days. Please note that the earliest possible payment date will be your course start date.
Payment dates will be confirmed on your student finance England account or the letter which you would have received from Student Finance.
Once you have completed your enrolment, including your module registration, you will be allocated your personal timetable via the myWLV app. Your timetable can be found under the calendar tile.
Please note that your timetable may not be available immediately after enrolment. Please visit the Timetabling webpage for more information.
Once you have completed enrolment, your ID card will be posted to your term-time address as recorded in e:Vision within ten working days.
Please contact the Library team if your ID card does not arrive within ten working days.
Enrolment Guide for Students
What's next?
Now that you've fully completed your enrolment, you can access the University induction module in Canvas and get involved with Welcome Week activities