Back
Back
BLOG: Chemical Engineering has come of age
Chemical Engineering at the University of Wolverhampton has come of age
Professor Phil Cox, Director of Studies, Chemical Engineering at the University, writes:
This year we graduated our first cohort of students and sent 100% of them off into either the world or work or further study and training and our students have already found a diverse range of destinations. A number are moving to Redbrick Universities to undertake Masters level studies and one student has secured a fully funded PhD position at the University of Birmingham looking into improving hydrogen fuel cells for the future and this was against stiff national and international competitors for the position - a fantastic achievement.
Others have already found jobs in the petrochemical sector (Saudi Arabia), the UK energy sector and medical device manufacturing. The original intention of the course was to give student an educational experience comparable to the larger, older and prestigious redbrick departments. We think we have fully achieved this aim. But to ensure it is true we have applied to our professional body for accreditation, now we have some graduates, and we have entered national league tables for the first time.
To ensure our courses are as good as they can be our external examiner is from the excellent Manchester School of Chemical Engineering and they oversee all our modules to ensure our standards are high. More than this, we have a special relationship with the University of Birmingham, one of the best Chemical Engineering departments in the world, and the Head of Design Studies has looked at the all-important Design projects from our students. These projects, if passed, allow students to work towards Chartered Engineer status in the future. ‌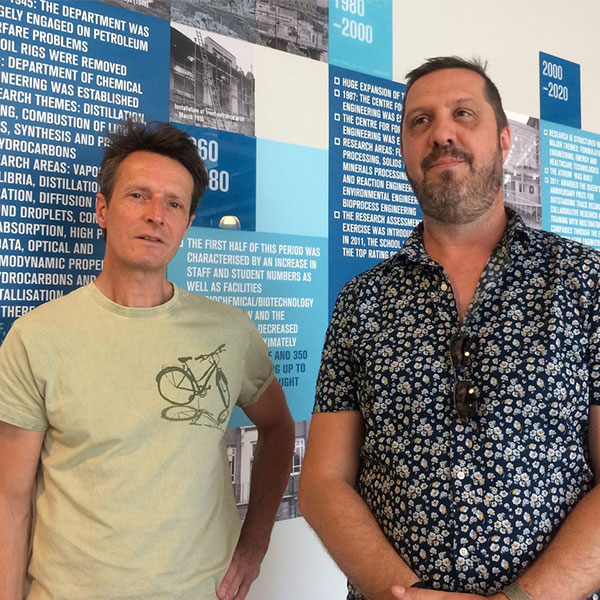 Pictured above are Dr Andy Ingram – Head of Design at the University of Birmingham and Professor Phil Cox – Director of Studies, Chemical Engineering, at the University of Wolverhampton. In his capacity of an external examiner for the University, Andy has already talked to our students to give them words of encouragement and now he has looked at their projects.
Andy said: "I was impressed with the quality and scope of what was presented and they were favourably comparable with what we expect to see at Birmingham."
Phil said: "The staff here are extremely grateful to Andy for his time and his kind words. However, the connection doesn't stop there! Professor Neil Rowson, the previous Head of Design at the University of Birmingham has very kindly agreed to come and help supervise next year's project and to use his wealth of experience in project management to help our student achieve even more. We're looking forward to welcoming Neil!"