Enrolment instructions
Log in to your e:Vision account, select the Enrolment button then
Once you have selected Enrolment, click the Register for IT Account button and follow the instructions: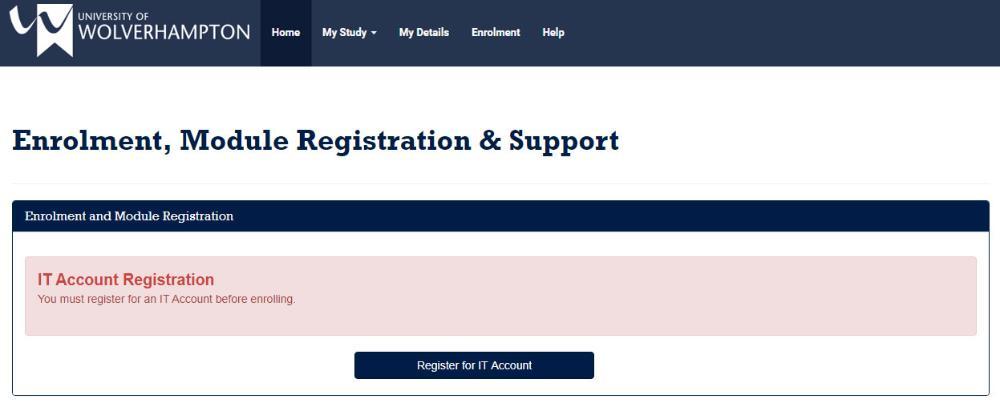 Once you have accepted the terms and conditions for using our IT services and confirmed your password, you will be given your university email address (ending with @wlv.ac.uk). Using this email you will then be able to access Canvas and your Course Induction information.
Once the IT account has been confirmed you will need to log back into e:Vision. The Enrolment and Module Registration page should now look similar to this: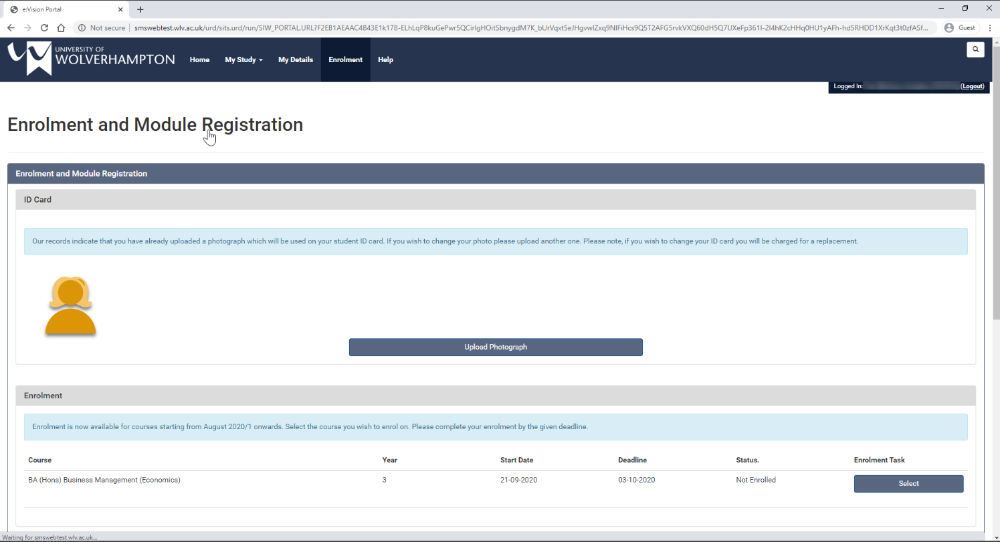 As you can see this is where you can upload your ID photo if you haven't already done so (for full instructions on this go to www.wlv.ac.uk/photoid). To start your enrolment click the SELECT button in the bottom right corner.
Then complete the Confirm your course task:
Step 3 - ID upload & enrolment
The number of tasks that you need to complete may vary depending on the course you are studying.
You are fully enrolled once all the enrolment tasks on your e:Vision have been turned to green.
If you need to complete an Occupational Health and/or DBS check you will have received instructions on how to do this by email. Further details can be found in the 'my tasks' section in your e:Vision.
If you have any issues with completing these checks, please contact your Faculty via email, with your student number.
DBS
Occupational Health
Faculty Student Services teams are working through all emails enquiries and Helpdesk calls received as quickly as possible. We recognise that this is a very stressful time for students, and we thank you your patience.
You should have received instructions on how to enrol by email, however you can also find a step-by-step guide on how to complete your enrolment and module registration here.
Please email student@wlv.ac.uk with your surname and date of birth if you are unable to locate your e:Vision login details.
The University will electronically confirm your registration following the official start date of your course and when you have fully completed enrolment. This will notify Student Finance England and confirm your attendance.
Once confirmed, payments will normally appear in your bank account a maximum of 72 working hours later. Please note that the earliest possible payment date will be your course start date.
For more information please visit: Funding and Budgeting
Undergraduate and Postgraduate Students
Once you have , online and had your identity checked (using the new ID Upload task) your University ID card will be posted to your term-time address (closer to the start date of your course).
Please carry this card with you on campus at all times (you may be asked to show it to security or other University staff).
Your ID Card will give you access to campus buildings, Library services and intercampus buses, as well as facilities.
For FAQ's please see