Back
Back
Glenn Martin James: Ghost Writer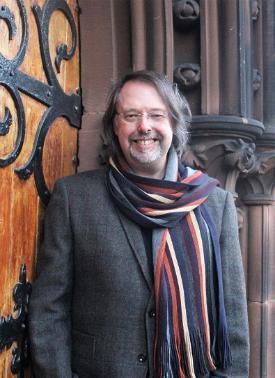 Scary monsters are the specialty of Glenn Martin James. Since graduating 25 years ago, the author and illustrator has channelled his affinity for all things macabre into stories and art that aim to keep readers awake well past the witching hour.
"I'm a voracious reader and when I was a student I was reading some of the real gothic classics," he recalls. Poe, Shelley, Doyle all get namechecked, as does his namesake M. R. James whose chilling Ghost Stories for Christmas inspired Yuletide nightmares for BBC viewers during the 1970s and '80s.
However, it's one horror writer above all who has perhaps been most influential on Glenn's own work. During his formative years, Glenn was entranced by the legend of Bram Stoker's immortal Count in his many guises on page and on screen.
From the classic Universal horror canon ("Bela Lugosi was the starting point for me") to an eerie TV adaptation of Stephen King's 'Salem's Lot, Glenn devoured every twist on Stoker's Dracula he could sink his teeth into. He calls Christopher Lee, who he met briefly in the '90s, "absolutely charming" and was given his generation's definitive take on the bloodsucker with Gary Oldman's shape-shifting performance in Francis Ford Coppola's 1992 film, which he calls "the film event of my time as a student".
Now a professional horror writer, Glenn's own dark tales have been published in anthologies on both sides of the Atlantic, and he is currently developing his Midland Gothic series, the first book of which (Norseman on the Threshold) was launched electronically in February 2018.
He is currently writing a book on the subject of Dracula's changing face on film; it will be released in the wake of a hotly anticipated BBC adaptation of the infamous Count's tale, as he is in touch with the production team and hopes to include a section devoted to this most up-to-date incarnation.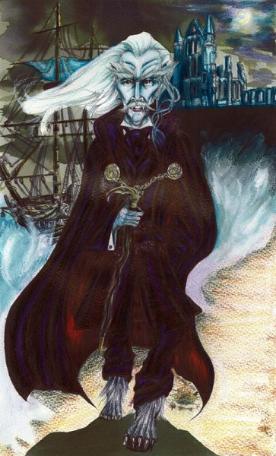 "This interest in vampires naturally bled across into my own ambitions," he explains. Glenn's gothic predilections are similarly represented in his artwork – one example is a drawing of Dracula produced for the Whitby Dracula Experience, the museum devoted to the subject in the Yorkshire town where Stoker was inspired to write the book.
His love of the two mediums means he cites cinema as his main influence: "I suppose that this is logical as film is an ideal combination of the visual and the written word, but I am very visually orientated. I was very lucky, the University had a top-notch film library, so I was ideally placed!
"I found out in my 30s that I am dyslexic, and as someone with this condition I think in pictures. The visual style of Universal and Hammer has influenced my own illustrations style for my horror work, a style of drawing I call Pre-Raphaelite Goth."
Glenn also writes for children and tours schools actively engaging young people with the power of storytelling; this Halloween, he read two excerpts from his upcoming children's book Hugo and the Werewolf on BBC Radio Stoke (listen here).
He recently swapped horror for sci-fi on a new War of the Worlds-themed project for the 200th birthday celebrations of Queen Victoria in Newcastle-under-Lyme, which proved so successful that Glenn was asked to stage the display again at the end of June as part of the world-famous Philip Astley Homecoming event. The author himself has found it influential, with a steampunk time-travelling adventure (working title Mr Wells and the Aliens) due for release in April 2020.
When pressed on what advice he'd give to alumni with similar artistic ambitions, he says: "It will take time to develop your own style, find your voice, and discover which medium in your chosen area suits you best. Bear criticism in mind constructively but don't let it destroy your confidence, and keep working at it and never give up."
Inspiring words – and not at all scary!
Find out more about Glenn and his work at: gmjames.co.uk