Welcome to the Multi-faith Chaplaincy
The Chaplains work with colleagues in Student Support and Wellbeing to help students make the most of their time at University. In particular, we support students with religious or cultural concerns as well as those who are feeling isolated or anxious. We have worked with students to arrange interfaith conversations, social justice activities and visits to places of worship.
Due to Covid-19 our building and all prayer facilities are currently closed. The Chaplains are still here for you, if you need to speak with a person of a faith we don't have on the staff we have community links with members of many faiths. Email us and we'll be happy to arrange to talk with you. Certain activities will be running on a bookable basis, for up to date details have a look on CANVAS, Facebook or on this page.
We also offer private and confidential conversations and support online, and over the phone. Chaplains attend events in churches, mosques, gurdwaras and other community venues. We announce these visits as and when they are due to occur.
Also, check out what Student Faith Societies are currently running via the Students' Union.
Upcoming Events
In addition Rabbi Cohen, based at the University of Birmingham, is able to offer support to Jewish students at all West Midlands universities (Email Rabbi Cohen) and Rev Debbie Loughran, offers Chaplaincy support at Telford. For a conversation with Debbie email
Places of Worship:
Campus Prayer and Quiet Rooms
We are sorry to inform you that all prayer spaces across the University of Wolverhampton are closed, to help manage the risks to students/staff members health from Coronavirus (Covid-19). In usual circumstances prayer and ablution facilities are available at City, Walsall and Telford. During lockdown the pattern for opening places of worship in the community varies across the areas in which we have campuses, please contact the chaplaincy if you feel you need help finding the latest information.
The Chaplaincy is able to help you discover ways of praying from your accommodation or learn about local places. Many faith communities are gathering online.
Why not take a moment to reflect and light a candle?
Take this opportunity to light a candle:
in hope for the coming year
in gratitude for all that we have
for those in need
in remembrance of a loved-one
for yourself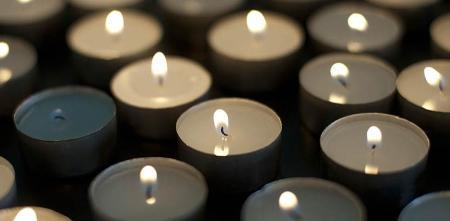 Complete the SSW Online Contact Form or contact us directly:
The main Chaplaincy building (MP) although currently closed, is situated between the Housman Building (MX).
If you would like to see a Chaplain then please telephone The Chaplaincy Team on 01902 322903 or email. All Chaplains are working from home, your call may go to voicemail but we will reply. We are unable to provide a crisis service.
You can also email us or contact us through our Facebook page.