Mature Learners Talk
When?

14 July 2022 , 5.30 pm – 6.30 pm

Where?

Virtual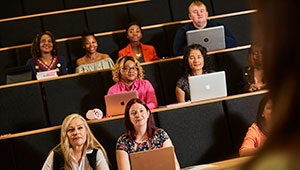 Returning to education can be an exciting but daunting prospect. Going to university is lifechanging, and at the University of Wolverhampton we welcome thousands of mature students each year onto our wide range of courses and we would like to encourage you to find out more about the opportunities to study with us.
Over 40% of students studying at the University of Wolverhampton are classified as 'mature' – that is, aged 25 or over at the start of their studies. We recognise that people have different circumstances and requirements when they join us and we understand that you may have lots of questions and want to find out further how to progress your career by increasing your skills and knowledge.
So, if you are interested in pursuing one of our Health courses; Nursing, Occupational Therapy, Podiatry, Midwifery, Public Health, Health Studies, Paramedic Science...then this event is for you.