Business Security & Cyber Threats Briefing with networking lunch
When?

26 May 2022 , 11:30 – 13:30

Where?

Cyber Quarter, Hursey Road, Hereford HR2 6NT, UK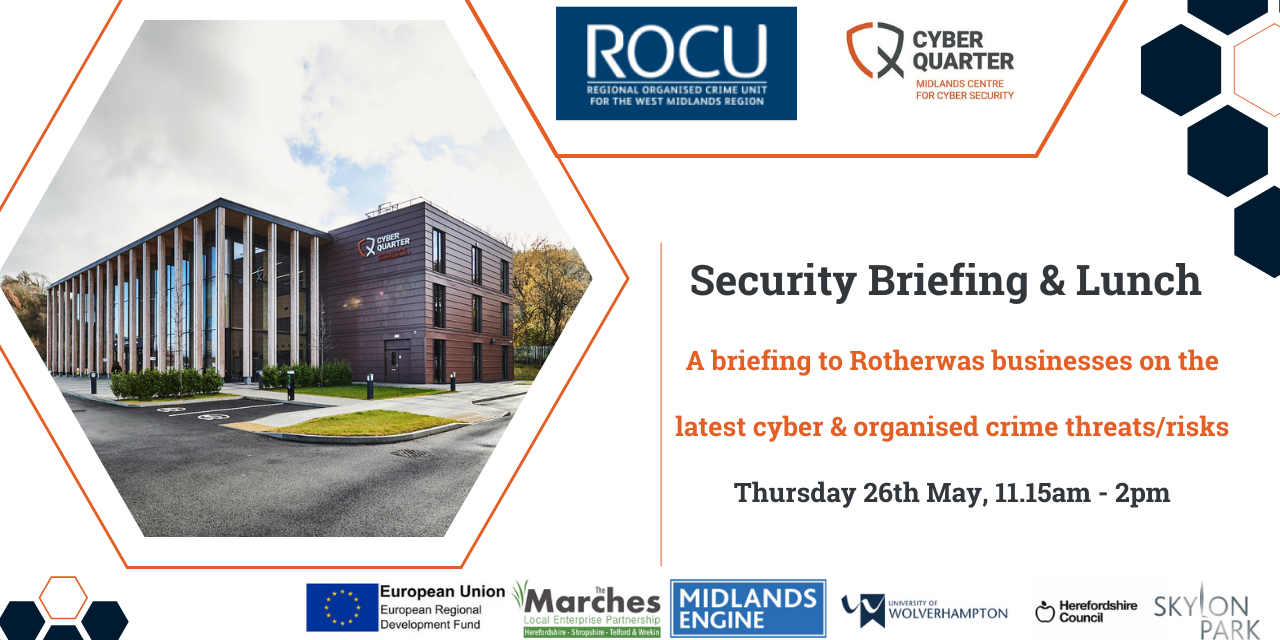 About this event
This will be a free, joint briefing session from organisations at the very front line of security in the West Midlands; with speakers from the West Midlands Regional Organised Crime Unit, West Midlands Regional Cyber Crime Unit and some of our own from the Cyber Quarter - Midlands Centre for Cyber Security.
According to the recent Department for Digital, Culture, Media & Sport (DCMS) Cyber Security Breaches Survey 2022, in the last 12 months, 39% of UK businesses identified a cyber attack. Within the group of organisations reporting cyber attacks, 31% of businesses and 26% of charities estimate they were attacked at least once a week. Additionally, just over half of businesses (54%) identified in this survey have acted in the past 12 months to identify their own potential cyber security risks.
With cyber attacks ever increasing and developing with the rise of sophisticated technology, sign up to this in-person briefing to discover how to be proactive with your cyber security strategy rather than reactive in this new era of business.
These briefing sessions are normally attended, but not limited to, the people responsible for the cyber security of their business. This includes:
Owner/managers of micro businesses who buy in their IT services and platforms.
Purchasing managers who need to monitor / check the vulnerability of their supply chain
However, even if you just have an interest in understanding how you can protect your business against cyber threats, this briefing is for you!
NOTE: We limit attendance at these sessions to two people per business. Contact us if you require an additional space.
Agenda:
11:20 - 11:30 Arrive + Tea & Coffee + Networking
11:30 - 12:20 Welcome and briefings from Regional Organised Crime Unit (ROCU), Regional Cyber Crime Unit (RCCU) and the Cyber Quarter
12:30 - 13:30 Q & A, Further Discussions + Networking lunch
13:30 - 14:00 Cyber Quarter tour (optional and pre-book)
This briefing is part of the Cyber Quarter project's business assistance, which is part funded by the European Regional Development Fund (ERDF)