Back
Back
12 things to do during your first week at the University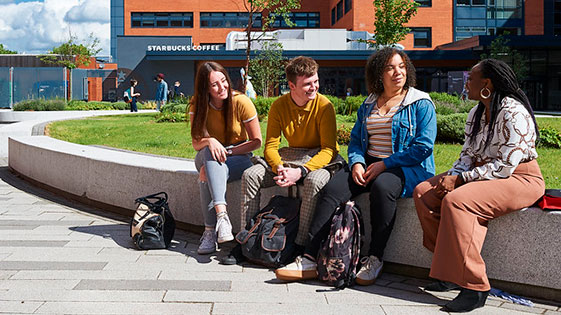 You've got a good few years to really explore and familiarise yourself with where you'll be studying and the surrounding area – but to make it easy for you, we've compiled a list of fun things to do in your first week that will help you get your bearings.
Whether you're going to be based at Wolverhampton, Walsall or Telford (and remember: you can travel between campuses for FREE on our inter-campus shuttle bus), our to-do list below gives just a taste of the varied and exciting things you can look forward to getting up to as a first year – and beyond!
Stock up on student essentials and say hello to big discounts – shop and save by hitting the Mander Centre, Saddlers Shopping Centre or Telford Centre with your new TOTUM card.
Don't miss the Freshers' Fayres on-campus during Welcome Week (Walsall 24th; Telford 25th; Wolverhampton 27th) for your chance to bag all the freebies you can carry. I mean, who's not a fan of free pizza?!
Escape Freshers' craziness for a moment – connect with nature and take a stroll around green spaces including West Park in Wolverhampton and Telford Town Park.
Discover the independent shops, bars and foodie faves that could become your much-loved student haunts. From the Shop in the Square's handmade curios to lunch at Nutmeg, polished off with cocktails at The Parisian… the city's hidden gems are waiting to be found.
Be inspired before lectures start: check out the collections at Walsall's New Art Gallery and Wolverhampton Art Gallery. And if you're stood outside the latter on Lichfield Street, on or around the hour, you may even glimpse a sheepish surprise…
Living in halls? Cook a meal with your new roomies – it'll save money and is also a great way to get chatting to people. Top tip: the Asda on Waterloo Road is open 24 hours!
Speaking of making new mates and socialising, jump right in and join a society. Whatever your interests, there's bound to be at least one group to get involved with!
Get the popcorn in for a movie night at one of the many multiplexes in the area; alternatively, catch the latest indie or blockbuster fare at Light House, the Black Country's only independent cinema.
Want to make family and friends back home scratch their heads? Take a selfie with the famed 'Man on the 'Oss' in Queen's Square and press send.
Passionate about theatre? Check out listings for the Uni's very own Arena Theatre or Performance Hub and find out how you could showcase your own dramatic chops or musical talent – or simply visit the Grand Theatre's box office to book tickets for an upcoming show.
C'mon, you Wolves! Cheer on local heroes Wolverhampton Wanderers FC, either in the stands or in a bar with a big screen, as they continue their Premier League ascent with a home game against Watford on Saturday 28th
Last, but certainly not least, remember to: smile, say hello and introduce yourself to as many other new students as you can. We understand that this new journey you're undertaking can feel a little overwhelming at times – so speaking to people who likely feel the same way is only going to help. Good luck!