Back
Back
Getting your application in: creating a stand-out portfolio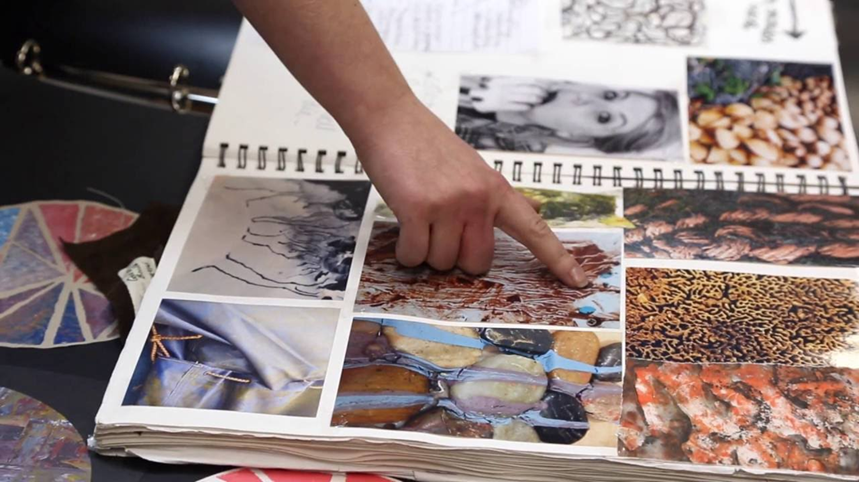 If you're applying for an arts-based course, chances are, you'll need to have a portfolio.
A portfolio is a way of showcasing your artistic work. It's a bit like a physical version of showing your 'working out' for maths problems: it can show what's inspired your work and projects, and how your ideas evolved.
You should be able to discuss and explain your ideas and aspirations. Ultimately, your portfolio needs to help our teaching staff to decide whether or not the course you've applied for is a good match for your skills and ambitions.
Which courses do I need a portfolio for?
You need to attend a portfolio interview day or submit a digital portfolio before a decision on your application can be made for the following undergraduate courses in our School of Art:

What makes a good portfolio?
No two portfolios, whether physical or digital, are the same. However, a strong portfolio will:
be well organised and presented: it can be any size that works for the content
demonstrate your strongest work, creative and technical abilities, rather than quantity of work
be a basis for discussion: you should be prepared to talk about your work, ideas, influences, and aspirations! We want to see your personality, passion and enthusiasm about your work
showcase your skills – especially key skills such as creativity, problem solving, reflection and evaluation
include a range of art work, usually between 10-15 pieces (pages) showing the development of your skills and/or experience with different media
include at least one project that shows development from concept to final piece
be presented in a digital format if working with moving image. This applies to our Animation, Film and TV Production, Games Design and Multimedia Journalism courses. Your digital work can be presented on a USB stick or via online video platforms
include high resolution images of large or 3D work (if too large or fragile to transport to the interview).
What can applicants expect from a portfolio interview day?
Our portfolio interview days take place between December-July at our Wolverhampton City Campus. As well as presenting your portfolio, they include:
an introduction to Wolverhampton School of Art
a tour of the course facilities and the wider campus
an opportunity to meet current students and view their work
opportunities to ask further questions and find out more information about the University.
Need some guidance?
Bring your portfolio to our next Open Day and receive great advice from our academic teams on how to make your portfolio even more outstanding and prepare yourself for future interviews.